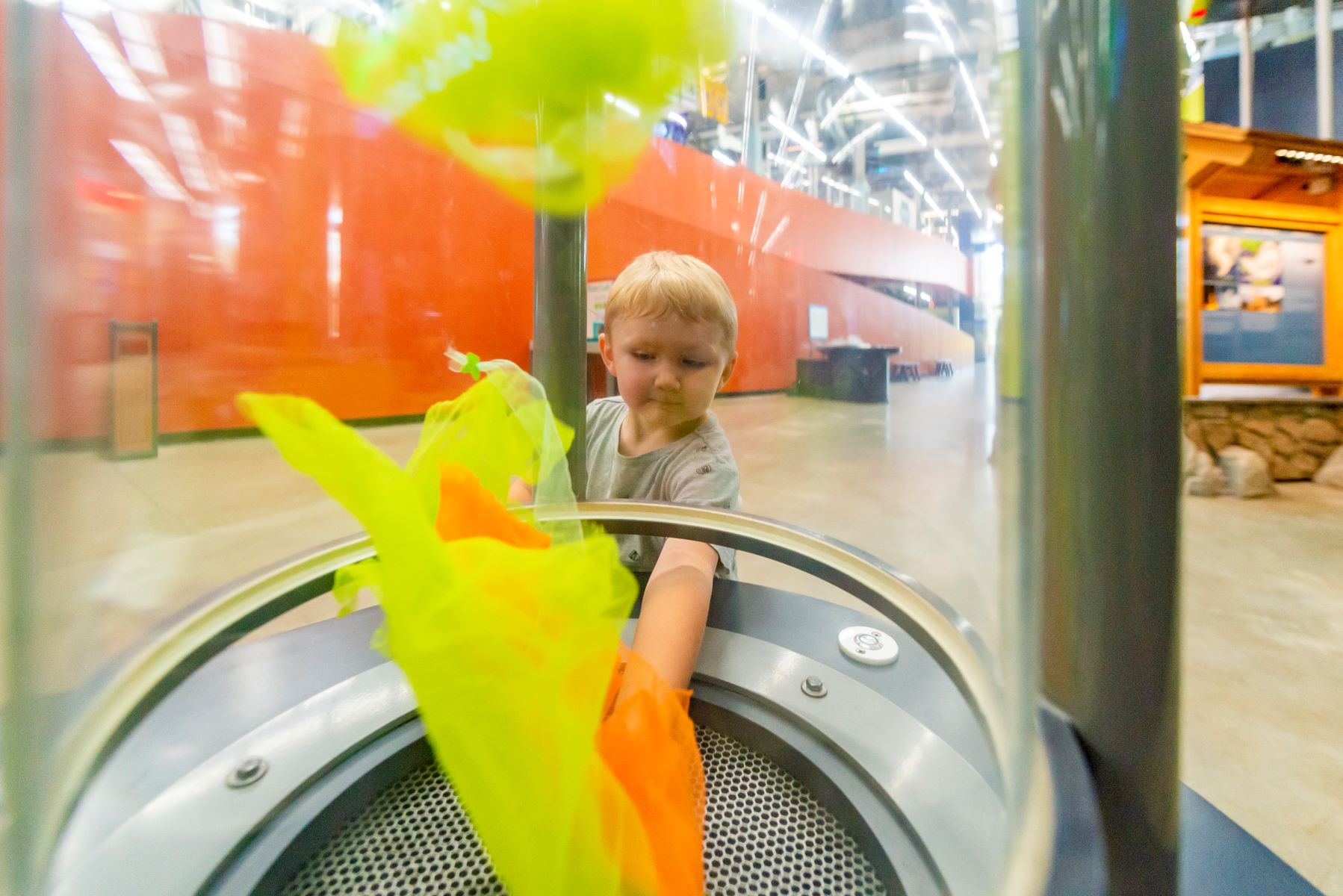 Last updated: February 7, 2023
Discovery Science Foundation ("DSF", "DSCLA","DSCOC", "we", "us", "our" or words of similar import) respects your privacy and is committed to protecting it. This Privacy Policy describes how we may collect, use, protect and share your Personal Information (as defined below) in connection with your use of (a) the www.discoverycubeconnect.org website and any other Discover Cube Connect-related websites (collectively, the "Website"), (b) the Discovery Cube Connect platform, applications, mobile applications and any related services (collectively, the "Apps") and (c) any software we make available through the Website or Apps and any other tool, module, remote service, server or other offering or services of any kind provided by DSF and related to the Website or Apps (together with the Website and Apps, the "Services").
To provide you with our Services and improve these Services over time, we will collect and use certain of your information as described in this Policy. This Policy also explains certain choices you have about how your Personal Information is used. By using the Services, you consent to the practices described in this Policy, unless further consent is required by applicable law. You may see other privacy notices when we collect your Personal Information for certain purposes; these notices supplement this Policy.
You can access certain features of the Services (e.g., general website features of the Service) without creating an account or providing Personal Information.
1. User Consent.
By submitting Personal Information to our Services, you agree to the terms of this Privacy Policy and you expressly consent to the processing of your Personal Information in accordance with this Privacy Policy. Your Personal Information may be processed in the country in which it was collected and in other countries, including the United States, where laws regarding processing of Personal Information may be less stringent than the laws in your country. IF YOU ARE A PARENT OR LEGAL GUARDIAN AND YOU PROVIDE CONSENT FOR YOUR CHILD TO REGISTER FOR OR OTHERWISE USE ANY OF THE SERVICES, YOU AGREE TO BE BOUND BY THIS PRIVACY POLICY IN RESPECT OF SUCH CHILD'S USE OF ANY SERVICE.
2. What is Personal Information?
When we say "Personal Information," we mean "personal information" or "personal data" as defined under applicable law. Generally speaking, this is defined as information that allows someone to identify or contact you, including your unique identifiers (full name, phone number, e-mail address, user name, location, etc.), plus information about your characteristics, conditions or behavior that is associated with one of your identifiers or could otherwise reasonably be linked to you. "Non-personal information," on the other hand, is information that has been anonymized, aggregated or de-identified such that it cannot reasonably be linked to you as an individual. "Information" means either Personal Information or non-personal information.
3. What We Collect.
Information Automatically Collected. When you access and use our Services, computer servers may automatically collect Information from your device or browser. In some cases, we limit this collection to non-personal information, but we may collect certain Personal Information as well. Examples of Information we may collect include, but are not limited to:
Usage Information. Information about your activity through access and use of our Services. For example, we may collect Information about how you interact with the Services.
Device Information. Information from and about the devices you use when you access and use our Services. For example, we may collect Information about your hardware and software, such as the hardware model, operating system version, device memory, unique application identifiers (which are only created and stored when App is installed but otherwise not used by us), unique device identifiers (to recognize usage patterns over time), browser type, language, battery level, and time zone, as well as Information about your wireless and mobile network connections, service provider and signal strength.
Camera and Photos. Information from and about the photos you share, including photo metadata. Your use of certain features of our Services requires us to collect images and other information from your device's camera or photos.
Log Information. Log Information may include: usage metrics; content interactions; and user journey history, advertising interactions and preferences and similar data.
Some of this information is collected through the use of "Cookies," which are pieces of Information that our Website transfers to a user's hard drive for record-keeping purposes. The information stored will make your usage of our Website easier and faster because it allows you to use the Website without having to re-enter Information on each visit. The cookies also keep track of items in your shopping cart, so you can search our Website for more Information without losing the tickets in your cart. We also use cookies when you request personalized Information on our site. These cookies are used to identify visitors when they return to the Website. They also maintain the visitor's identity while at our Website so they need only log in once. Without cookies, the shopping cart (which maintains your items from page to page) will not function. Personal Information. We collect Personal Information (1) when you register for an account on any of our Services, (2) when you place an order in our shopping cart, or (3) when you enter into one of our promotions. We will not sell, rent or share this Information with any other organization except where otherwise indicated below. Except as set forth above or unless you provide it to us directly at your option, Personal Information is not otherwise collected by our Services. If Personal Information is to be collected by any of our Services at any time in addition to what is described in this Privacy Policy, you will be notified of such, with the notice explaining the Personal Information being collected and its intended use. We will not collect any such additional Personal Information without your consent. At any time, you may contact us using to request access to, changes, anonymization of, removal of or editing of such Personal Information. Information You Provide to Us. We may collect from you directly some or all of the categories listed below when you access or use one or more of our Services, fill out a form on the Website or App, participate in one of our surveys or contact us with questions or feedback:
Identifiers such as name, address, email address, phone number, user name and similar information;
Demographic Information such as preferred language, age, birth date and similar information;
User Content such as content in your comments, posts, communications or responses; and
Any other Personal Information you voluntarily provide to us.
IF YOU ARE A MINOR, PLEASE DO NOT POST ANY USER CONTENT ON ANY OF OUR SERVICES THAT CONTAINS YOUR LIKENESS, NAME, LOCATION OR OTHER SENSITIVE PERSONAL INFORMATION, SUCH AS ANY PHOTOS OF YOURSELF OR YOUR FAMILY/FRIENDS OR ANY PHOTOS OF YOUR RESIDENCE. If you decline to provide certain Personal Information when requested, we may not be able to provide one or more Services to you or you may not receive access to certain features of a Service.
4. Use of Your Data.
Information. We may use your Information in the following ways:
To develop, operate, improve, deliver, maintain and protect our Services;
To monitor and analyze trends and usage;
To personalize the Services by customizing the content we show you, including ads;
To provide and improve ad targeting and measurement;
To enhance the safety and security of our Services;
To use information we've collected from cookies and other technology to enhance the Services and your experience with them;
To enforce our Terms of Use and other policies applicable to your use of our Services;
To detect, investigate, mitigate or prevent activities that may violate our policies, threaten the security of our Services or may be fraudulent or illegal; or
To comply with our legal obligations.
We may also share your Information with third party service providers to provide you with the Services, conduct quality assurance testing or to provide technical support. These third party service providers are required to use your Information solely and specifically to provide the services requested by us, and cannot share your Information in any other way. You expressly consent to the sharing of your Information with our service providers for the sole purpose of providing services to you.
Personal Information. In the event you provide us with any Personal Information at your option, we may use your Personal Information for the following purposes, subject to restrictions under applicable law:
To respond to your inquiries;
To provide you with certain Services or features of Services requiring such Personal Information;
To contact you about products or services we think may be of interest to you;
To contact you with legal notices or other information that may be relevant to the Services;
In the event we reasonably believe we have a legal obligation to do so, to disclose your Personal Information to government authorities or other third parties when required by law or pursuant to a valid subpoena, litigation demand or court order, or to protect or defend our rights or property, including the Services; or
As otherwise described to you at the point of collection or pursuant to your express consent.
Non-Personal Information. We may use non-personal information for any purpose, and reserve the right to use and disclose non-personal information to third parties in our sole discretion.
Disclosures to Advertising Companies. Third parties may serve ads on certain of the Services (such third parties "Advertising Companies"). We do not send any Personal Information to Advertising Companies. If Advertising Companies select certain demographic targeting for their ads, we automatically match those ads to the appropriate audience using non-personal information. Advertising Companies only receive data reports from us with non-personal information. Any of your Information collected directly by such Advertising Companies is governed by their privacy policies, not ours, and we are not responsible for the content or privacy practices of such Advertising Companies.
Affiliates and Acquisitions. We may share some or all of your Information with our affiliates (e.g. subsidiaries or other affiliates under common control with us), and in each case we will require any such affiliates to honor this Privacy Policy. If another company acquires us or our assets, that company will possess the Information collected by it and us and will assume the rights and obligations regarding your Information as described in this Privacy Policy
5. Your Choices Regarding Your Information.
If you have opted-in to receive promotional communications, you may indicate a preference to stop receiving further promotional communications from us and you will have the opportunity to "opt-out" by following the unsubscribe instructions provided in the e-mail you receive or by contacting us directly (please see contact information below). Despite your indicated e-mail preferences, we may send you Services related communications, including notices of any updates to our Terms of Use or Privacy Policy.
6. Data Security.
In order to safeguard Personal Information against unauthorized access, removal, theft or disclosure, we implement and maintain security procedures and practices appropriate to the nature of the Information and reasonable in light of industry standards and our particular operations, risks and resources. We regularly assess the performance and adequacy of these procedures and practices and will adjust them when new standards, operations or risks require it.
When you place an order through any of our Services, we reveal only five digits of your credit card numbers when confirming an order. Of course, we transmit the entire credit card number to the appropriate credit card company during order processing. Credit card information is stored in our database using triple-DES encryption algorithms to ensure that, even if someone were able to gain access to the data, nothing useful could be extracted.
Unfortunately, in our increasingly connected digital world, no one can guarantee perfect data security, and we cannot promise that our procedures and practices will always prevent a breach of Personal Information. Should we detect such a breach, we will promptly notify affected individuals, third parties and law enforcement agencies as required by applicable law. We encourage you to help maximize security by applying your own personal security measures. For more information about what you can do to protect your data, please see the tips and resources offered by the U.S. Federal Trade Commission at https://www.consumer.ftc.gov/topics/privacy-identity-online-security and the California Attorney General at https://www.oag.ca.gov/privacy/consumer-privacy-resources.
7. Online Advertising and Remarketing Tags We Use.
We use third party analytics, advertising and remarketing services, including Bizo, Facebook, Google, LinkedIn, Twitter and AdRoll, to advertise our various Services. These third party services will display relevant ads tailored to you based on your activity on our Services by placing a cookie on your machine and using that to reach visitors at a later time with a targeted advertisement back to one of our Services, a less intrusive way of sharing our latest exhibits with past visitors. These third party advertising cookies do not in any way identify you or give access to your computer. Any data collected will be used in accordance with our own Privacy Policy, as well as those of our third party service providers: Bizo, Facebook, LinkedIn, AdRoll, Google and Twitter. While our science center locations are designed for children to learn and play in a safe, educational environment under the supervision of their parents, our Services are not designed for unsupervised minors. We use our Website to promote our various education programs and centers strictly to teachers and parents. We do not knowingly attempt to track, target or sell to users under the age of 13.
8. "Do Not Track" Signals.
The web browsers and applications that you use to visit our Services may provide certain "Do Not Track" capabilities. Generally, browsers that have these features enabled send a signal to websites that inform the site operator that you do not wish for the site to track you. We do not respond to these signals because there is not yet a common understanding of how to process these signals or a consensus on what "tracking" means.
If you do not wish to participate in third party remarketing, you can opt out of such advertising cookies by enabling "Do Not Track" in your web browser's settings or by opting out directly:
9. Links to Third Party Services.
Our Services may contain links to third-party websites, products or services. For example, our Services may contain links provided by social media platforms that you can use to post directly from our App or other Services. Information collected by those third parties is governed by their privacy policies, not ours, and we are not responsible for the content or privacy practices of such other websites and third parties. We encourage you to learn about the privacy practices of those third parties.
10. Protecting Children's Privacy Online.
Our Services are not intended for use by children under 13 years of age unsupervised by a parent or legal guardian, and we do not knowingly collect Personal Information from children under 13. If we learn we have collected or received Personal Information from a child under 13, we will delete that information. If you believe we might have any Personal Information from or about a child under 13, please contact us at the email address provided below.
11. Contact Information.
We welcome your comments or questions regarding this Privacy Policy or our practices. Please e-mail us using our Contact Form or contact us at the following address:
Discovery Science Foundation
2500 N. Main Street
Santa Ana, CA 92705
12. California Residents (CCPA Statement).
Under California Civil Code Section 1798.83, California customers are entitled to request information relating to whether a business has disclosed Personal Information to any third parties for the third parties' direct marketing purposes. We do not sell or share your Personal Information with third-party companies for their direct marketing purposes without your consent. You can learn more about the CCPA here: https://oag.ca.gov/privacy/ccpa.
13. Changes to This Privacy Policy.
This Privacy Policy is subject to occasional revision, and if we make any substantial changes in the way we use your Personal Information, we will notify you by sending you an e-mail to the last e-mail address you provided to us and/or by prominently posting notice of the changes on our Website and App. Any changes to this Privacy Policy will be effective upon the earlier of thirty (30) calendar days following our dispatch of an e-mail notice to you or thirty (30) calendar days following our posting of notice of the changes on our Website and App. These changes will be effective immediately for new users of our Services. Please note that at all times you are responsible for updating your Personal Information to provide us with your most current e-mail address. In the event that the last e-mail address that you have provided us is not valid, or for any reason is not capable of delivering to you the notice described above, our dispatch of the e-mail containing such notice or the posting of such changes on our Website and App will nonetheless constitute effective notice. In any event, changes to this Privacy Policy may affect our use of Personal Information that you provided us prior to our notification to you of the changes. If you do not wish to permit changes in our use of your Personal Information, you must notify us prior to the effective date of the changes. Continued use of our Services following notice of such changes shall indicate your acknowledgement of such changes and agreement to be bound by the terms and conditions of such changes.