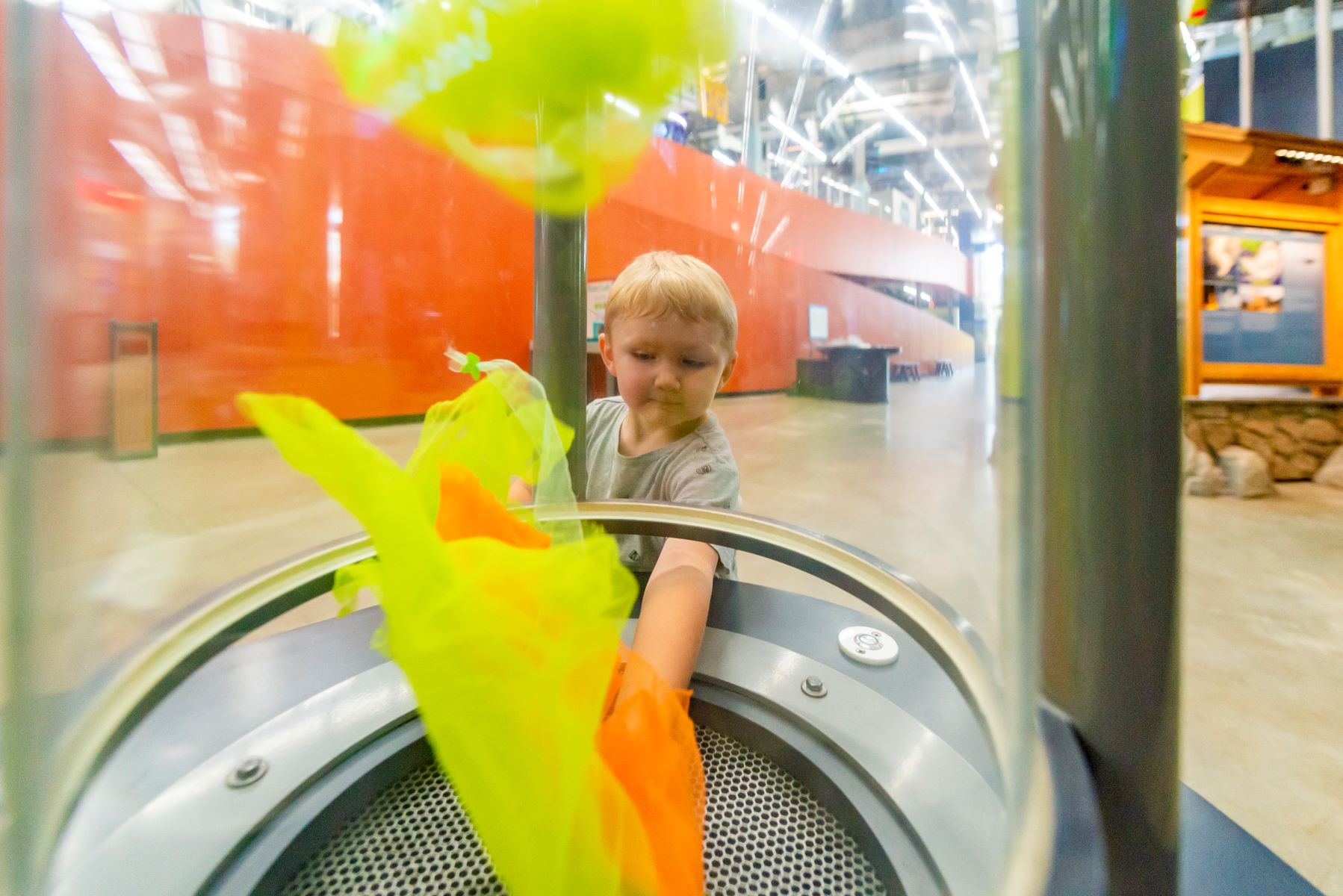 Last updated: February 7, 2023
Welcome, and thank you for your interest in Discovery Cube! These Terms of Use (this "Agreement" or the "Terms") govern the agreement between Discovery Science Foundation ("DSF", "we," "us," "our" or words of similar import) and you (alternatively, a "User") regarding your use of (a) the www.discoverycube.org website and any other Discovery Cube Connect-related websites (collectively, the "Website"), (b) the Discovery Cube Connect platform, applications, mobile applications and any related services (collectively, the "Apps"), and (c) any software we makes available through the Website or Apps and any other tool, module, remote service or other offering or service of any kind provided by DSF and related to the Website or Apps (together with the Website and App, the "Services").
IMPORTANT – PLEASE READ CAREFULLY – THESE TERMS CREATE A LEGALLY BINDING AGREEMENT WHICH GOVERNS YOUR USE OF THE SERVICES. BY ACCESSING OR USING ANY OF THE SERVICES OR ANY CONTENT OFFERED THROUGH THE SERVICES, YOU ACCEPT AND AGREE TO BE BOUND, WITHOUT LIMITATION OR QUALIFICATION, BY THESE TERMS, AS THEY MAY BE UPDATED FROM TIME TO TIME IN OUR SOLE DISCRETION. IF YOU DO NOT ACCEPT ANY OF THESE TERMS, YOU ARE PROHIBITED FROM USING THE SERVICES.
IF YOU ARE A PARENT OR LEGAL GUARDIAN AND YOU PROVIDE CONSENT FOR YOUR CHILD TO REGISTER FOR OR OTHERWISE USE ANY OF THE SERVICES, YOU AGREE TO BE BOUND BY THESE TERMS IN RESPECT OF SUCH CHILD'S USE OF ANY SERVICE.
Use of the Services is also governed by our privacy policy, the current version of which can be found at www.discoverycube.org/privacy-policy (the "Privacy Policy"), which is incorporated herein by reference.
Eligibility; Account
By clicking the "I Agree" button or by otherwise using or registering an account for the Services, you represent that (a) you are a U.S. resident at least (thirteen) 13 years of age, or (b) you are not a U.S. resident, and are of legal age of consent to open an account under the laws of your country of residence, or (c) your use of the Services has been approved by and is supervised by your parent or legal guardian. You also represent that you have not been previously suspended or removed from any Service by us, and that your registration and your use of the Services is in compliance with any and all applicable laws.
In order to use certain features of the Services, you must register for an account. You may be asked to provide a password in connection with your account. You are solely responsible for maintaining the confidentiality of your account and password, and you agree to accept responsibility for all activities that occur under your account or password. You agree that any information you provide to us, whether at registration or at any other time, will be true, accurate, current and complete, and you will ensure that this information is kept accurate and up-to-date at all times. If you have reason to believe that your account is no longer secure (for example, in the event of a loss, theft or unauthorized disclosure or use of your account ID or password), you agree to immediately notify us via our Contact Form. You may be liable for any losses incurred by us or others due to any unauthorized use of your account.
If you are under the age of thirteen (13) (a "Child User"), you may not create or register an account for the Services without consent and approval from your parent or legal guardian. If you are under the age of eighteen (18), you represent that your parent or legal guardian has reviewed and agreed to these Terms on your behalf. A Child User that begins the registration process for himself or herself without the consent and approval of a parent or legal guardian may have the registration process restricted until a parent or legal guardian approves or assumes responsibility for the Child User account. IF YOU REGISTER, APPROVE OR CONSENT TO THE REGISTRATION OF, OR OTHERWISE ASSUME RESPONSIBILITY FOR ANY CHILD USER, YOU REPRESENT AND WARRANT THAT YOU ARE SUCH CHILD USER'S PARENT OR LEGAL GUARDIAN AND YOU AGREE TO BE BOUND BY THESE TERMS ON BEHALF OF SUCH CHILD USER, INCLUDING WITHOUT LIMITATION BEING LIABLE FOR ALL USE OF THE SERVICES BY THE CHILD USER. NOTWITHSTANDING THE FOREGOING, YOU ACKNOWLEDGE THAT WE CANNOT GUARANTEE THE ACCURACY OF ANY INFORMATION SUBMITTED BY ANY USER AND WE ARE NOT OBLIGATED TO VERIFY THE IDENTITY OF ANY USER, INCLUDING ANY USER'S CLAIM TO BE A PARENT OR LEGAL GUARDIAN, OR TO VERIFY THAT A PARENT OR LEGAL GUARDIAN IDENTIFIED BY A CHILD USER DURING REGISTRATION IS SUCH CHILD USER'S ACTUAL PARENT OR LEGAL GUARDIAN.
Rules Of Conduct
You shall not post, upload or otherwise distribute anything on any Service which is libelous, defamatory, obscene, pornographic, abusive, harassing or threatening, contains viruses or other contaminating or destructive features, interferes with the use and enjoyment of any Service by others, violates the rights of others (such as content which infringes any copyright, trademark, patent, trade secret or violates any right of privacy or publicity) or otherwise violates any applicable law. You also may not post any links to any external site on any Service. None of the Services may be used by you for any commercial purpose, to distribute any advertising or solicitation of funds or goods and services or to solicit users to join competitive online services.
Services License
Subject to this Agreement and your compliance with these Terms and any of our other relevant policies, including the Privacy Policy, we hereby grant you a non-transferable, non-exclusive, revocable and limited license (without the right to sublicense) to (a) use the Services solely for your personal, non-commercial purposes; and (b) install and use the App or any of our other software made available by us through the Services, solely on your own computer or other device and solely for your personal, non-commercial purposes.
The rights granted to you in this Agreement are subject to the following restrictions: (a) you shall not license, sell, rent, lease, transfer, assign, distribute, host or otherwise commercially exploit the Services; (b) you shall not modify, make derivative works of, disassemble, reverse compile or reverse engineer any part of any Service; (c) you shall not access any Service in order to build a similar or competitive service; (d) except as expressly stated herein, no part of the Service may be copied, reproduced, distributed, republished, downloaded, displayed, posted or transmitted in any form or by any means; (e) without first obtaining our written permission, you may not use any of the Services if we have notified you that you may not use any such Services; and (f) you shall not use any of the Services to engage in any illegal conduct. All copyright and other proprietary notices on any Service content must be retained on any copies.
We reserve the right, at any time, to modify, suspend or discontinue any Service or any part thereof (including modifying any URL link) with or without notice. You agree that we will not be liable to you or to any third party for any modification, suspension or discontinuance of any Service or any part thereof. Any future release, update or other addition to functionality of any Service shall be subject to these Terms.
Ownership and Use of DSF Intellectual Property
As between you and us, the Services and all of their respective components and contents (including without limitation Digital Assets and Works) are owned by us. The Services are protected by copyright, trademark and other laws of both the U.S. and foreign countries, and may not be reproduced, duplicated, copied, sold, resold, visited or otherwise exploited for any unauthorized commercial purpose, or used in any manner other than as permitted by these Terms, without our express prior written consent in each instance. "Digital Assets" as used in these Terms means content from any form of media (for example, photographs, video, text, audio, Web pages, etc.) preserved in digital form. "Works" as used in these Terms means any work in the literary, scientific or artistic domain, in whatever mode or form of expression (including digital form), including without limitation any of the following works: a book, pamphlet and other writing; a lecture, address or other work of the same nature; a dramatic or dramatico-musical work; a choreographic work; a musical composition; a cinematographic work; a work of drawing, painting, architecture, sculpture, engraving or lithography; a photographic work; a work of applied art; an illustration, map, plan, sketch or three-dimensional work relative to geography, topography, architecture or science; a performance; a broadcast; a phonogram; or a compilation of data to the extent it is protected as a copyrightable work.
Unless otherwise stated in these Terms, you may (a) print or download our Digital Assets and (b) copy, reproduce, adapt or distribute Works; provided, however, that in the case of both (a) and (b) you (i) do so solely for informational, educational and other noncommercial purposes and (ii) include the following copyright notice adjacent to the resource copied, developed or derived from Digital Assets or Work, and with the URL as a live link with respect to digital environments:© Discovery Science Foundation, www.discoverycube.org.
You may not reproduce, record, publish, modify or distribute any of our Digital Assets or Works for commercial purposes without our prior written consent. Requests for commercial use of our Digital Assets and Works or questions as to whether a specific use is permissible or requires written consent should be sent via the Contact Form. Requests by the media for use of any image should be coordinated through our press office.
Some examples of permitted use of our Digital Assets not requiring prior written permission:
a link from your website to a specific DSF Digital Asset; and
a reproduction of a Work for use in an educational setting.
Some examples of restricted use, requiring prior written permission:
a publication containing reproductions of our activities or images, Digital Assets or Works, to be sold or provided in exchange for a fee;
use of our images, Digital Assets or Works to promote a commercial program, product, event or activity, such as a science exhibition not produced by us;
serving our pages on your website; and
development, fabrication or manufacture of exhibits based, in whole or in part, on our Digital Assets or Works, for sale, lease, license, rental or other distribution thereof in which money or any other form of compensation or consideration is exchanged therefor (whether or not the recipient will be using such exhibit for informational, educational or other non-commercial purposes).
Feedback
In the event you provide us with any feedback about any Service, including, without limitation, any errors, flaws, issues, suggestions or otherwise (collectively, "Feedback"), you hereby assign to us any and all rights, title and interest in and to the Feedback, including, but not limited to, the right to use such Feedback in any manner we deem appropriate. To the extent any Feedback may not be assigned to us, whether under any applicable law or otherwise, you agree to provide us with an exclusive, royalty-free, fully paid-up, irrevocable, perpetual, transferable, worldwide license to use such Feedback in any manner we deem appropriate.
Third Parties
Our App may be downloaded from third party websites ("App Stores") (for example, Apple's App Store). If you use our App, you understand that the App Store's terms (including its terms of use and privacy policy) apply and you agree to comply with such terms. App Stores are not under our control and we are not responsible for any App Stores. We provide our App through an App Store only as a convenience and do not review, approve, monitor, endorse, warrant or make any representations with respect to any App Store. You agree that your use of any App Store is at your own risk. For the avoidance of doubt, your use of any of the Services is governed by these Terms and if any term in these Terms is inconsistent with any App Store agreement, these Terms will control, but only with respect to such Services.
Our Services may provide links and pointers to third party websites or vendors. We are not responsible for the availability of any other website or vendor to which any Service links. Nor do we endorse or take responsibility for the content, advertising, products or other materials made available through any such website or vendor. Under no circumstances shall we be held responsible or liable, directly or indirectly, for any loss or damage that is caused or alleged to have been caused to you in connection with your use of, or reliance on, any content, goods or services available on any such third party website or vendor.
User Content; Submissions
"User Content" means any and all communications, materials, photos, data and other information and content you create, upload, post, send, share or otherwise transmit through use of any Service, including, without limitation, any information related to your use of any Service or any third party platform you have authorized to interface with any Service. As between you and us, you are the owner of all rights, title and interest in and to the User Content, and except as otherwise expressly stated in these Term or the Privacy Policy, you reserve all rights in and to the User Content. You are solely responsible for your User Content. You assume all risks associated with your User Content, including any reliance on its accuracy, completeness or usefulness by others, or any disclosure of your User Content that makes you or any third party personally identifiable. You may not state or imply that your User Content is in any way provided, sponsored or endorsed by us. Since you alone are responsible for your User Content, you may expose yourself to liability if, for example, your User Content violates these Terms or any applicable laws. We are not obligated to backup any User Content and it may be deleted at any time. You are solely responsible for creating backup copies of your User Content.
You hereby grant us a non-exclusive, perpetual, worldwide, royalty-free, fully paid up license to use your User Content as necessary or otherwise useful to provide any Service or otherwise in accordance with these Terms and the Privacy Policy. To be clear, any personal information included in your User Content may only be used by us in accordance with the Privacy Policy. For User Content you elect to share at your sole discretion via our Services, you also hereby grant us a perpetual license to promote, exhibit, broadcast or otherwise display such User Content. While we're not required to do so, we may access, review, screen and delete your User Content at any time and for any reason, including if we think such User Content violates these Terms or the Privacy Policy.
We are not responsible for screening content posted by you or other users of any Service for libel, obscenity, invasion of privacy, copyright or trademark infringement, accuracy or for any other reason. We do, however, retain the right to modify or remove messages or other content that we, in our sole discretion, consider infringing, offensive, abusive, defamatory, obscene, stale or otherwise unacceptable. We also reserve the right to edit materials for any other reason. Whether or not we modify or remove such content, users remain solely responsible for any messages, posting or other content such user posts on any Service.
Seeking to Take Down Infringing Content
We reserve the right to terminate without notice your access to any Service if you are determined by us to be a "repeat infringer." In addition, we accommodate and do not interfere with standard technical measures used by copyright owners to protect their materials. Without limiting the foregoing, it is our policy to respond to notices of alleged copyright infringement that comply with the Digital Millennium Copyright Act. If you believe your work has been copied and posted on any of our Services in a way that constitutes copyright infringement, please provide our Copyright Agent with the following information: (a) an electronic or physical signature of the person authorized to act on behalf of the owner of the copyright interest; (b) a description of the copyrighted work that you claim has been infringed; (c) a description of the location on our Services of the material that you claim is infringing; (d) your address, telephone number and e-mail address; (e) a written statement by you that you have a good faith belief that the disputed use is not authorized by the copyright owner, its agent or the law; and (f) a statement by you, made under penalty of perjury, that the above information in your notice is accurate and that you are the copyright owner or authorized to act on the copyright owner's behalf. Contact information for our Copyright Agent for notice of claims of copyright infringement is as follows: supportdcc@discoverycubeconnect.org.
disclaimers
TO THE MAXIMUM EXTENT PERMITTED BY APPLICABLE LAW, THE SERVICES (AND ANY OF OUR DIGITAL ASSETS OR WORKS THEREIN) ARE PROVIDED "AS IS" AND WITHOUT WARRANTIES OF ANY KIND, EITHER EXPRESSED OR IMPLIED. WE DISCLAIM ALL WARRANTIES, EXPRESSED OR IMPLIED, INCLUDING BUT NOT LIMITED TO IMPLIED WARRANTIES OF MERCHANTABILITY, TITLE, NONINFRINGEMENT AND FITNESS FOR A PARTICULAR PURPOSE.
WE DO NOT WARRANT THAT ANY FUNCTIONS CONTAINED IN ANY SERVICE WILL BE UNINTERRUPTED OR ERROR-FREE, THAT DEFECTS WILL BE CORRECTED OR THAT THE SERVICES OR THE SERVER THAT MAKES THEM AVAILABLE ARE FREE OF VIRUSES OR OTHER HARMFUL COMPONENTS.
limitation of liability
TO THE EXTENT LEGALLY PERMITTED UNDER APPLICABLE LAW, IN NO EVENT SHALL WE NOR ANY OF OUR AFFILIATES OR ANY OF OUR OR THEIR DIRECTORS, EMPLOYEES, AGENTS, ATTORNEYS, THIRD-PARTY CONTENT PROVIDERS, DISTRIBUTORS, LICENSEES OR LICENSORS (THE "DSF PARTIES") BE LIABLE TO YOU FOR ANY SPECIAL, INDIRECT, INCIDENTAL OR CONSEQUENTIAL DAMAGES, INCLUDING DAMAGES OR COSTS DUE TO LOSS OF PROFITS, DATA, USE OR GOODWILL, PERSONAL OR PROPERTY DAMAGE RESULTING FROM OR IN CONNECTION WITH THIS AGREEMENT OR THE USE, MISUSE OR INABILITY TO USE ANY SERVICE, REGARDLESS OF THE CAUSE OF ACTION OR THE THEORY OF LIABILITY, WHETHER IN TORT, CONTRACT OR OTHERWISE, EVEN IF WE HAVE BEEN NOTIFIED OF THE LIKELIHOOD OF SUCH DAMAGES. IN NO EVENT SHALL WE BE LIABLE FOR PROCUREMENT COSTS OF SUBSTITUTE PRODUCTS OR SERVICES. OUR MAXIMUM LIABILITY ARISING OUT OF OR IN ANY WAY CONNECTED TO THIS AGREEMENT OR ANY SERVICE SHALL NOT EXCEED U.S. $50. THE EXISTENCE OF ONE OR MORE CLAIMS UNDER THESE TERMS WILL NOT INCREASE OUR LIABILITY.
Term and Termination
WITHOUT LIMITING ANY OTHER REMEDIES, WE MAY, WITH OR WITHOUT NOTICE TO YOU, LIMIT, SUSPEND, TERMINATE, MODIFY OR DELETE YOUR ACCESS TO ANY SERVICE OR PORTIONS THEREOF IF, IN OUR SOLE DISCRETION, YOU FAIL TO COMPLY WITH ANY OF THESE TERMS OR YOU USE ANY SERVICE FOR ACTUAL OR SUSPECTED ILLEGAL ACTIVITY OR OTHER IMPROPER USE. WE SHALL BE UNDER NO OBLIGATION TO COMPENSATE YOU FOR, AND SHALL HAVE NO LIABILITY TO YOU FOR, ANY LOSSES OR ADVERSE RESULTS THAT ARE DUE TO THE SUSPENSION, TERMINATION, MODIFICATION OR DELETION OF YOUR ACCESS TO ANY SERVICE.
WITHOUT LIMITING ANY OTHER REMEDIES, WE MAY LIMIT, SUSPEND OR TERMINATE ACCESS TO ANY SERVICE, OR ANY PORTIONS THEREOF, INCLUDING ANY CONTENT INCORPORATED THEREIN, DELAY OR REMOVE ANY CONTENT AND TAKE TECHNICAL AND LEGAL STEPS TO PREVENT USERS FROM ACCESSING ANY SERVICE IF WE BELIEVE THAT SUCH USERS ARE CREATING RISK OR POSSIBLE LEGAL LIABILITIES, INFRINGING THE INTELLECTUAL PROPERTY RIGHTS OF THIRD PARTIES OR ACTING INCONSISTENTLY WITH THE LETTER OR SPIRIT OF OUR TERMS OR OTHER POLICIES.
We reserve the right to stop offering or supporting any Service or part thereof at any time, at which point the license granted hereunder to you to use such Service or any applicable part thereof will automatically terminate. We shall not be required to provide refunds, benefits or other compensation to you in connection with any such cessation of any Service.
Indemnification
You agree to defend, indemnify, save and hold us and the other DSF Parties harmless from any claims, losses, damages and liabilities, including legal fees and expenses, arising out of (a) your use or misuse of any Service, (b) any violation by you of these Terms or any breach of the representations, warranties and covenants made by you herein, (c) your use or access of any third party software or service utilized in connection with any Service, (d) your violation of any applicable laws or any infringement by you, or any third party acting on your behalf, of any intellectual property, real property, privacy or other right of any third party, or (e) any intentional misconduct or negligence by you in using any Service. We reserve the right, at your expense, to assume the exclusive defense and control of any matter for which you are required to indemnify us and the other DSF Parties and you agree to cooperate with our defense of these claims. We will use reasonable efforts to notify you of any such claim, action or proceeding upon becoming aware of it. You agree that the provisions in this paragraph will survive any termination of your allowed use of any Service.
Changes to Terms
These Terms are subject to occasional revision, and if we make any substantial changes, we will notify you by sending you an e-mail to the last e-mail address you provided to us and/or by prominently posting notice of the changes on our Website and App. Any changes to these Terms will be effective upon the earlier of thirty (30) calendar days following our dispatch of an e-mail notice to you or thirty (30) calendar days following our posting of notice of the changes on our Website and App. These changes will be effective immediately for new users of our Services. In the event the last e-mail address you have provided us is not valid, or for any reason is not capable of delivering to you the notice described above, our dispatch of the e-mail containing such notice or the posting of such changes on our Website and App will nonetheless constitute effective notice. Continued use of our Services following notice of such changes shall indicate your acknowledgement of such changes and agreement to be bound by the terms and conditions of such changes.
Jurisdictional Issues
We control and operate this site from our offices in the United States of America. We do not represent that the Services or any content thereon are appropriate or available for use in other locations. Persons who choose to access this site from other locations do so at their own risk, and are responsible for compliance with local laws, if and to the extent local laws are applicable.
Choice Of Law
If any disputes arise regarding your use of any Service, such disputes shall be governed by the laws of the State of California, without reference to its choice of law provisions. You agree to submit to the jurisdiction of the federal or state courts located within Orange County, California for the purpose of litigating all such claims or disputes. If any provision of these Terms is found to be unlawful, void or for any reason unenforceable, then that provision will be considered severable from the remaining terms and conditions, and will not affect the validity and enforceability of the remaining provisions.
Contact Information
We welcome your comments or questions regarding these Terms or our practices. Please contact us using our Contact Form or at the following address:
Discovery Science Foundation
2500 N. Main Street
Santa Ana, CA 92705